step into an upgraded and functional bathroom with A remodel in Tulsa, Broken Arrow, Jenks, and Owasso, OK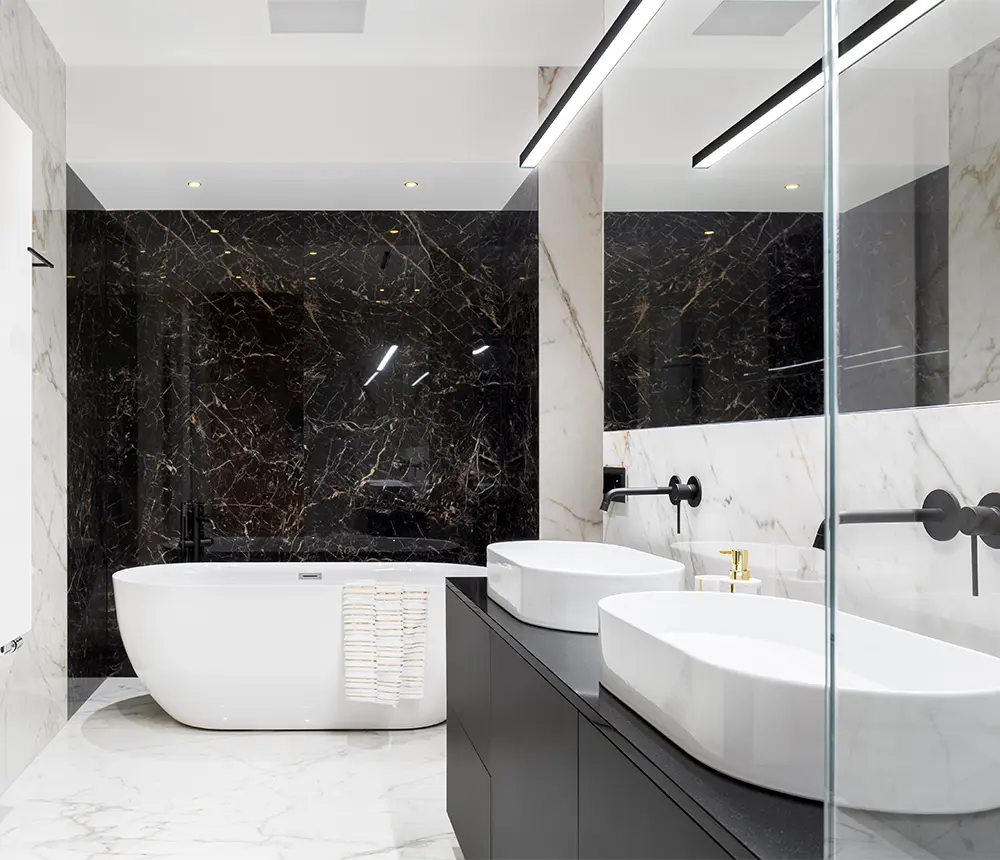 Scroll down to discover bathroom remodeling options, process, and pricing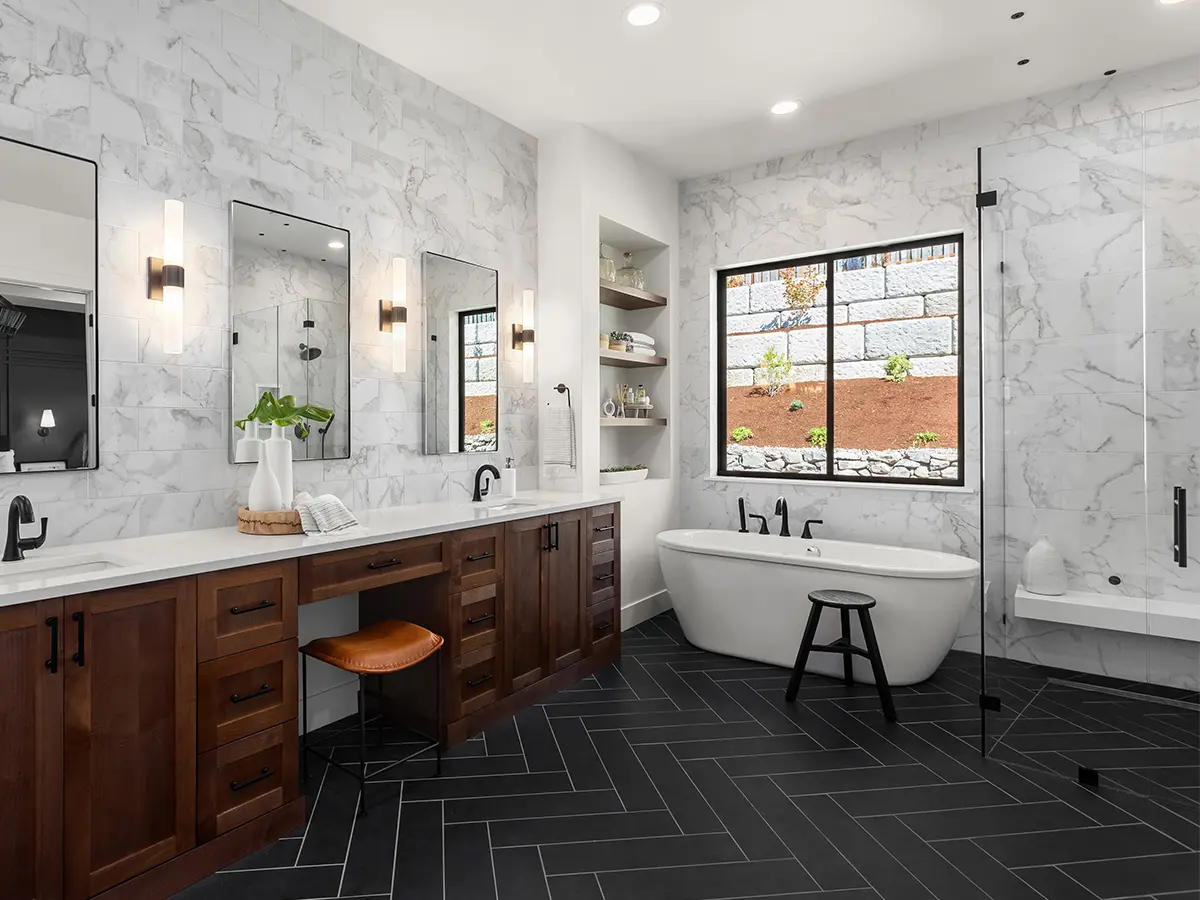 From Frustating to Fabulous: Experience the Perks of A Bathroom Remodel
When the bathroom is small and crowded, it's harder for you and your family to start the day right.
Imagine a custom vanity with a shiny new countertop and heated floors that make hard mornings a bit more bearable. Or a new soaker tub that helps you unwind at the end of the day. And how about new storage for your towels and linens, with soft-closing drawers that won't wake up the entire house?
Whether this is your idea of a perfect bathroom or you have something completely different in mind, we're here to help you bring your vision to life!
Experience a completely new bathroom, with upgrades that include:
This Is How Your New Bathroom Can Look
Perhaps You'd Like To Know...
We're proud to say we've completed 150 bathroom remodels so far and the numbers keep going up. But these are just numbers, and you are more than a number to us. You are our chance to engage in another Unique Renovation project tailored to meet your family's needs.
A complete bathroom remodel usually takes between 4 and 8 weeks. Again, this depends on the size and scope of the project. We want to make it as easy for you as possible, so we also handle permits whenever needed.
Yes, pretty much anything related to home remodeling requires a permit. We can help with that, especially if you also need electrical and plumbing work done. Since we've been in the business for quite some time, we have developed a network of partners and can help get the required permits faster, so you can relax while we take care of the paperwork.
It depends on the size of the bathroom and what upgrades you want. Prices start at $25k and can be up to $150k for large bathrooms with high-end features. Most of our customers spend around $50k for a bathroom remodel. The return on investment is around 25% of their spendings. If you ever plan on selling, a remodeled bathroom can significantly increase the selling price of your home and make it more appealing to potential buyers.
We have an extremely talented in-house designed that can offer 3D renderings and map out everything you need for your new bathroom. Prices for designs kick off at $500 and we also offer consulation if you need it.
We work with both in-house employees and subcontractors that have been with us for almost a decade. They prioritize our projects because of the trust-based relationship we have, and they share our vision to going the extra mile for our clients.
Each remodeling project receives a dedicated project manager who oversees every step of your bathroom remodeling project. It's a zero-hassle process, so you can go on with your daily routine without having to constantly supervise your contractors.
A Pricing Guideline For Your Unique Bathroom
Before
After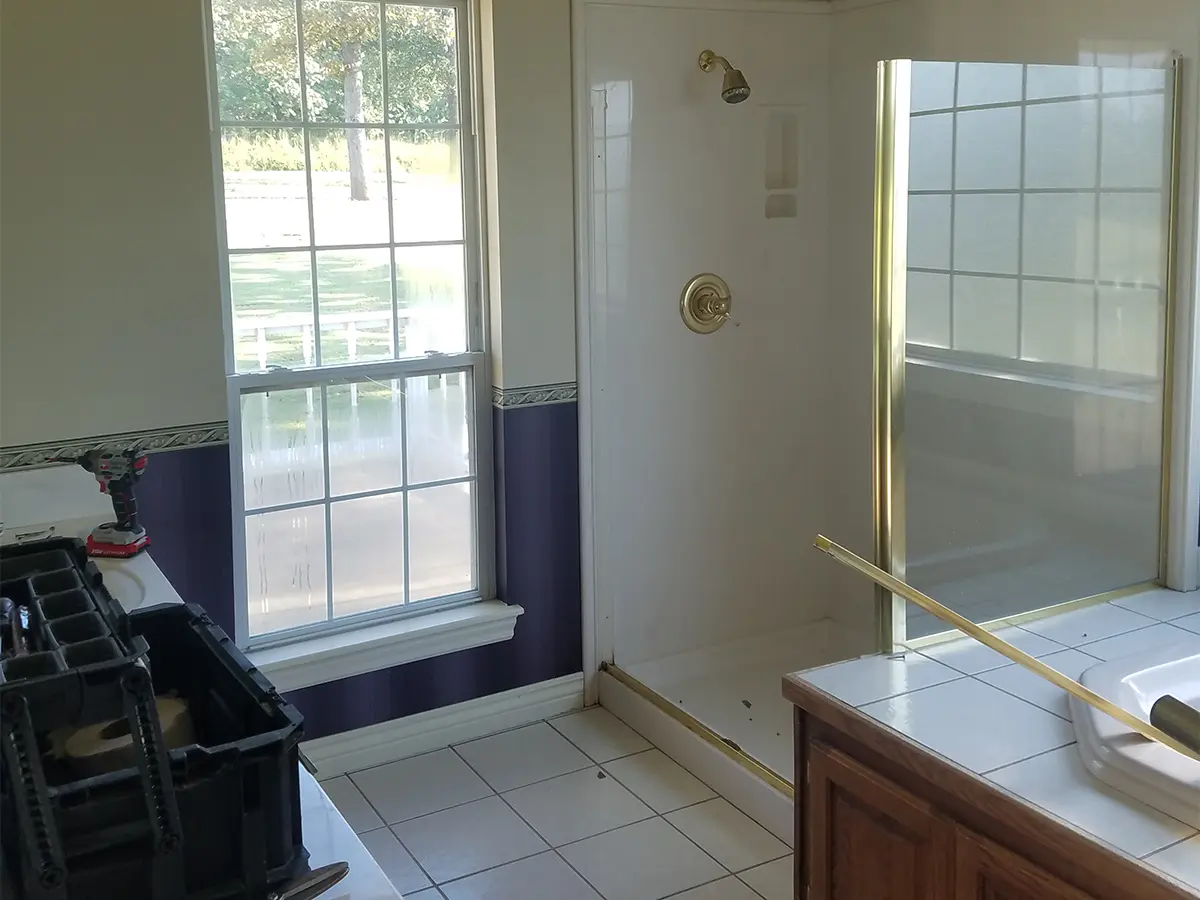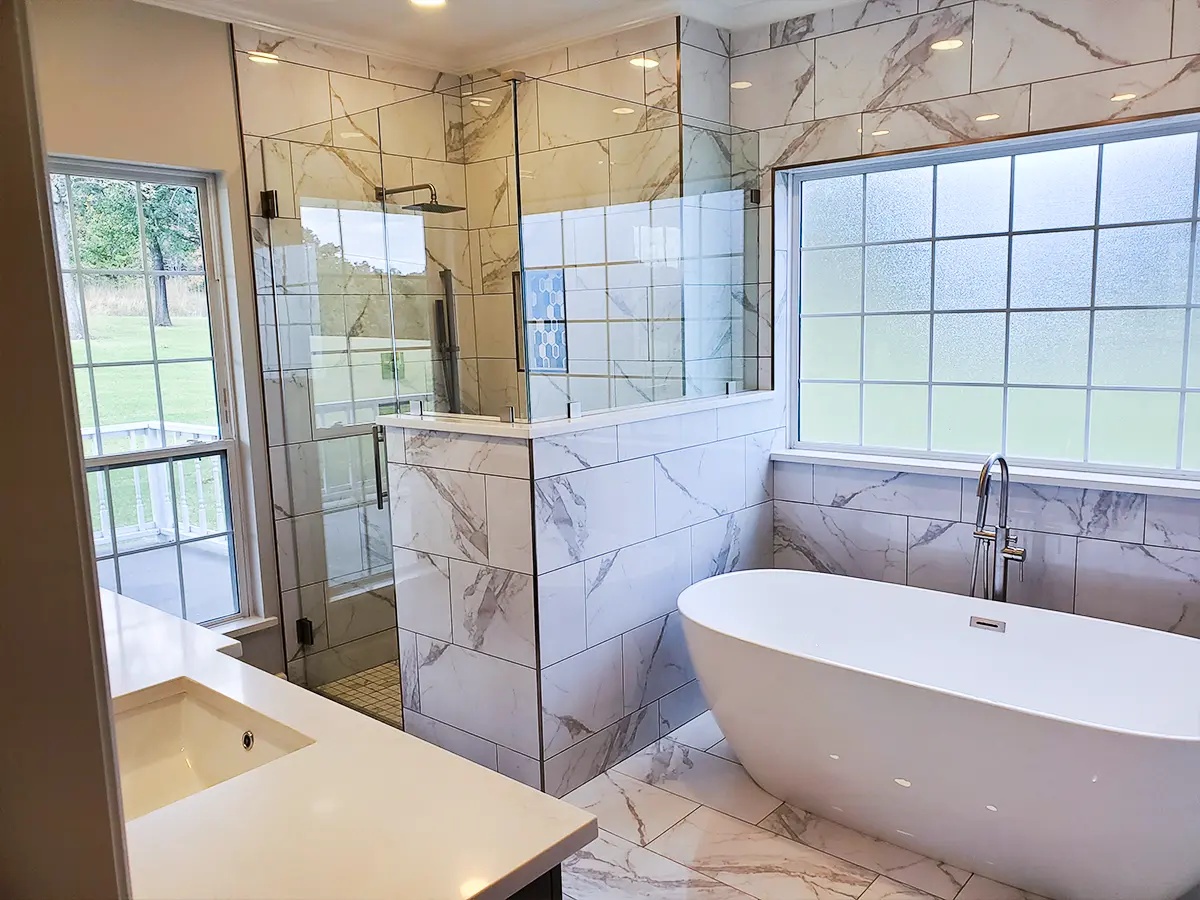 Complete Bathroom Remodel in Tulsa, OK
This 220 ft². bathroom remodel included:
The remodel was quoted at $34,500, where the tile work alone was $10,500.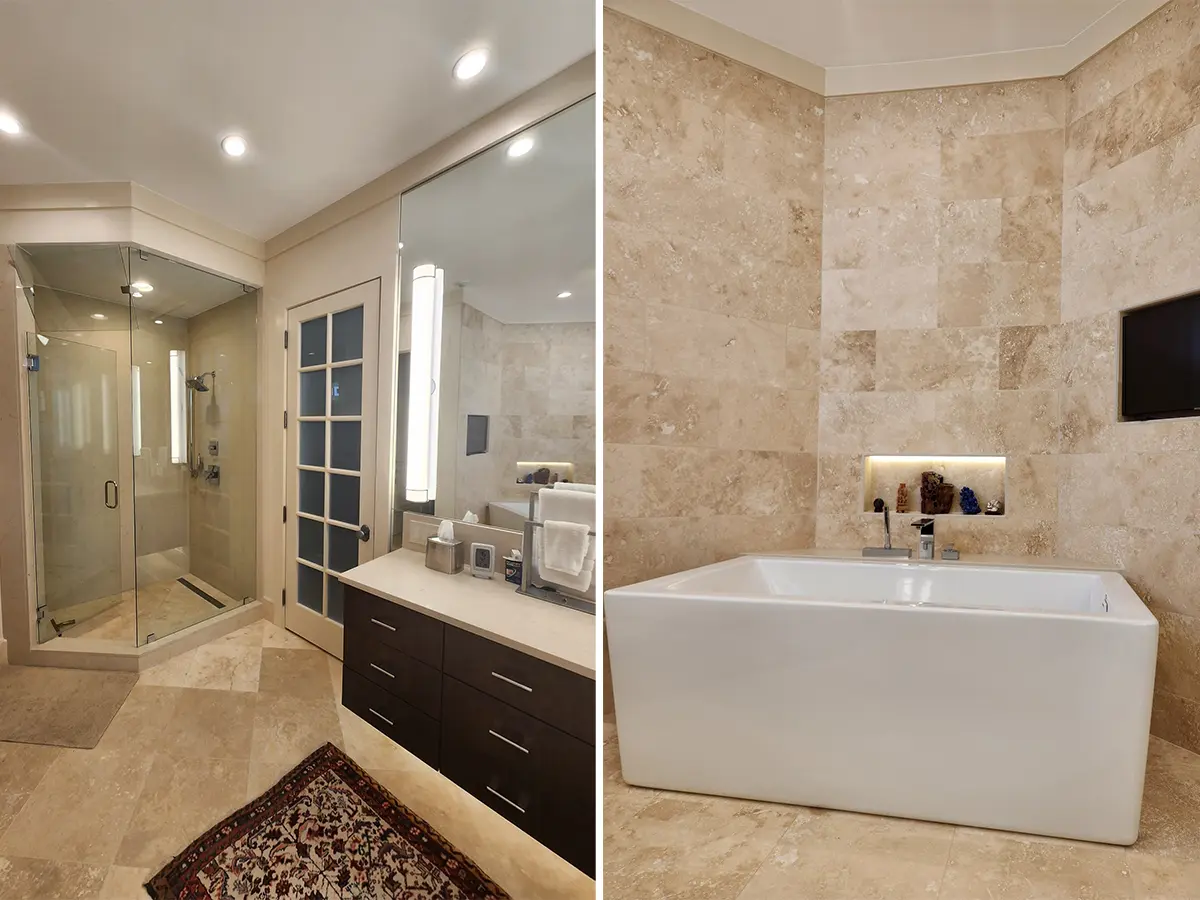 Travertine Bathroom Remodel In Jenks, OK
This 220 ft². bathroom remodel included:
The remodel was quoted at $120,000, where the quartz and tile work were the most expensive items, at $40,000.
White Marble Bathroom Remodel In Tulsa, OK
This 220 ft². bathroom remodel included:
The project was quoted at $47,000, where the custom marble tile work alone was $13,500.
Your new bathroom in 3 easy steps
Enjoy a process that focuses on your needs and wants. We don't cut corners and stand by the promises we make, no matter what it takes.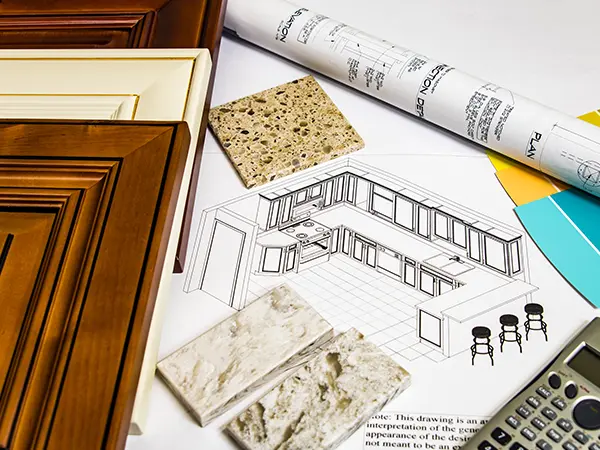 Tell us how you want your new bathroom to look and feel.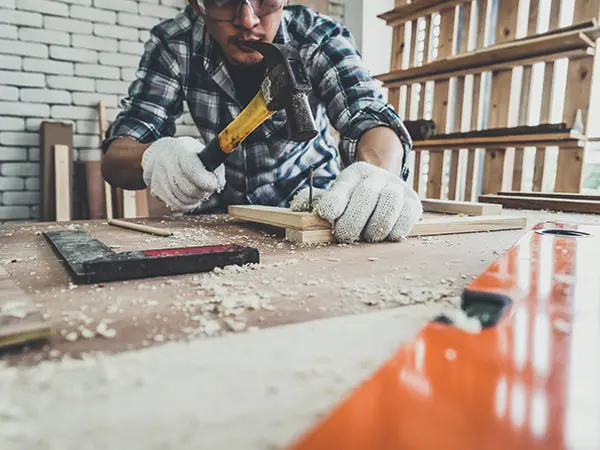 Watch your new bathroom unfold before your eyes.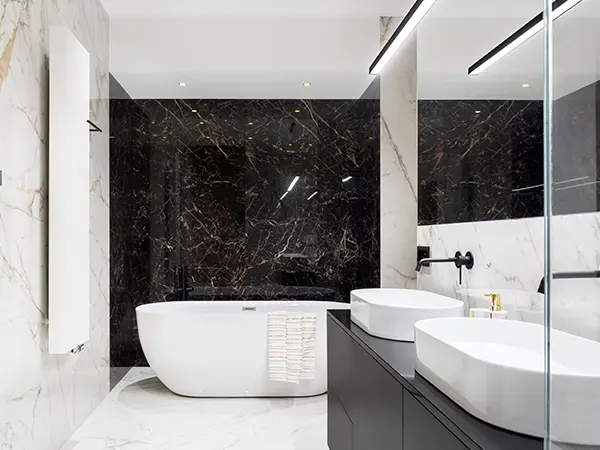 Take pride in your new bathroom and enjoy better mornings!
This Could Be Your 5-star Bathrooom
Josh and his crew remodeled my 2 bathrooms, renovated my kitchen, installed new flooring throughout my house and more, I couldn't be more happy with the work. He is great to work with!
The crew from Unique Renovations were very responsive and helpful for our situation. After two other quotes for bathroom repair work that were *wildly* different, I need a third "tie-breaker" to help me decide how to proceed.
I was very pleased at the clear explanation of what needed to be done and the quality of their work. They were careful, conscientious, and flexible when we needed them to be, and the final results are wonderful.
They did a remodel on my main bathroom and it turned out great. They were on time and always kept me informed.
A Bathroom Investment That Pays Off
Here's a personal note from owner Josh to you:
What to Expect When Choosing Unique Renovations
As craftsmen, we're passionate about every aspect of our job. Enjoy close to two decades of experience for your new bathroom space.
We love building bathrooms, but we also love solving problems. Whether your project involves custom work or you want something that's never been done before, we'll make it happen.
We fully encourage you to be part of your unique renovation and bring all your ideas to the table. We're here to listen to you, not the other way around.
Enjoy a Beautiful and Fully Functional Bathroom Space
From separate couple vanities to heated floors, we turn outdates and cramped spaces into sleek and personalized wonder-bathrooms.