Turn your Old kitchen into the talk of the town with A kitchen remodel In Tulsa, Broken Arrow, Jenks, and Owasso, OK.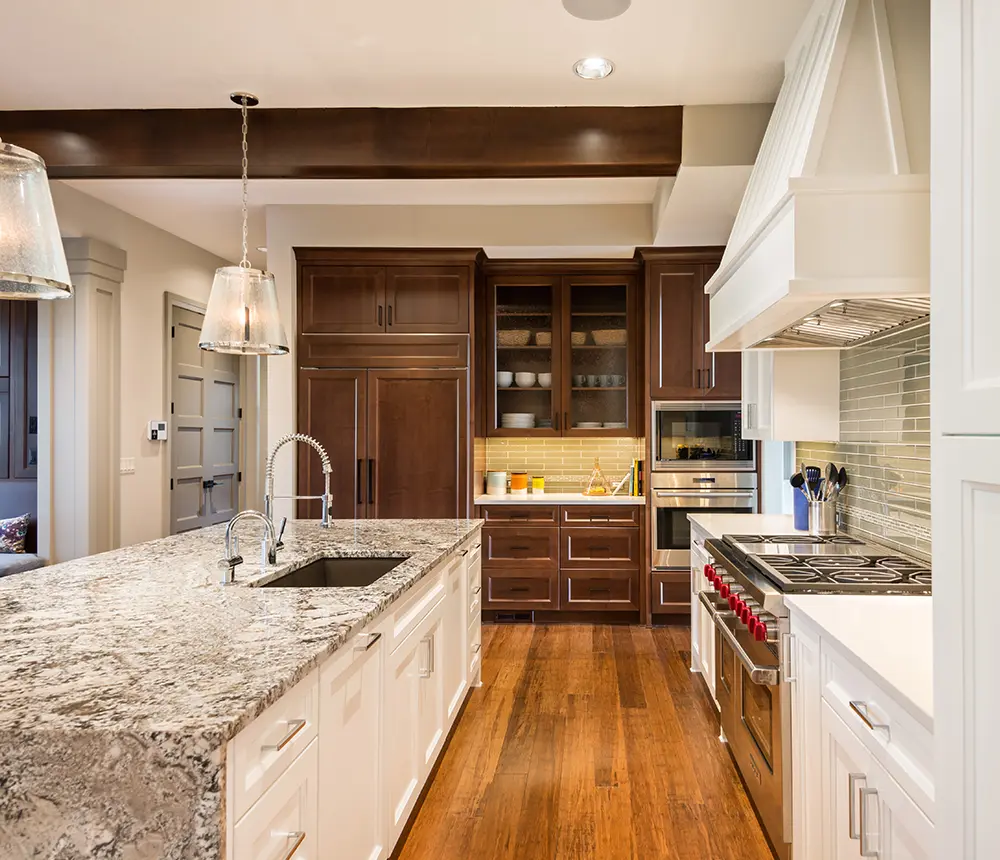 Scroll down to discover kitchen remodeling options, process, and pricing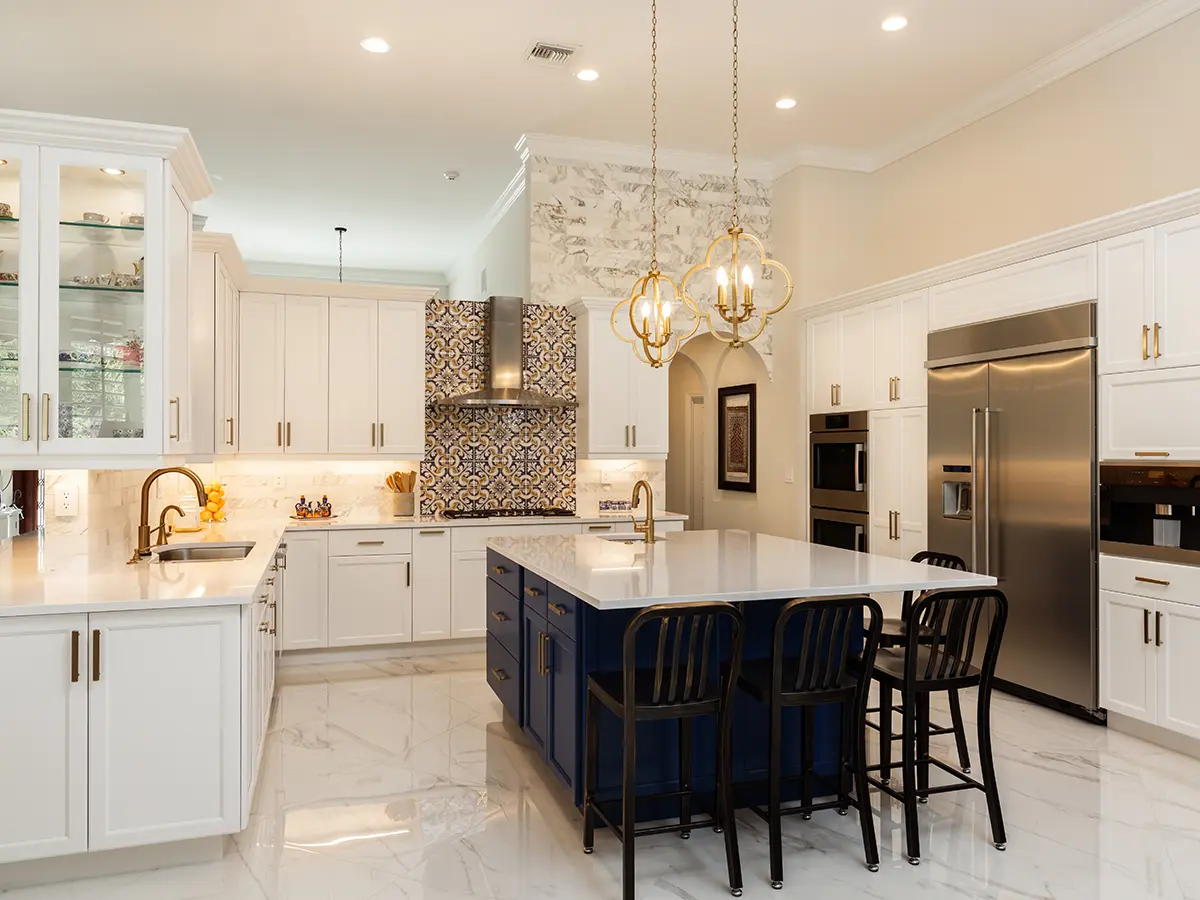 A New Space For Your Family Reunions
Few things come close to having the whole family together in the kitchen. The smell of fresh ingredients and delicious pot roasts combined with new stories and laughter all around the table make everything worthwhile.
You get to spend your mornings together in your new breakfast nook and get your hands dirty making Christmas cookies on your new marble countertops. 
For both the cooking and the family to come together, you need a proper kitchen space. We're here to help you transform your kitchen into your new family space.
Cook and laugh in a kitchen that includes:
Your Kitchen Can Look Like This, Too
What Homeowners Like You Want To Know
Kitchen remodeling costs depend on the extent of the project, including the size of your kitchen and the exact upgrades you're looking to make. Prices generally range from $30k to $170k and $200k. The average price is around $70k.
The basic price includes things like recessed lights, new facutes, cabinet repainting, new tiles and new backsplash. You can buy the appliances you want and we'll accommodate the space accordinly to make room for them in your new kitchen. We don't install the appliances ourselves because it may lead to warranty voids.
Our hands-on and hands-off kitchen remodeling services allow clients to pick their level of engagement. We'll help you every step of the way, whether you choose to be hands-on or delegate.
A kitchen remodel can take between 4 to 8 weeks, depending on the upgrades you're looking for and how big or small your kitchen is. Prior to starting the job, Unique Renovations ensures that all ordered materials are delivered or prepared. Existing structures are not demolished until everything is ready for installation.
Washing dishes in the bathtub is fun for one time, but we aim to minimize disruption to your regular life.
Making changes is totally possible, but there are some steps we need to take first. We put together the necessary paperwork for the change, including price and deadline modifications. If the cost changes, we can gather it upfront or you can make a deposit. The exact procedure depends on the exact cost of the change.
An open kitchen can change your workflow. Imagine cooking for your family as they enjoy the space. We cook, speak, and make memories in the kitchen.
Budget determines which appliances to upgrade in a kitchen redesign. For your cooking needs, you may choose larger refrigerators, a dishwasher, and double built-in ovens, to name a few.
When remodeling your kitchen, we always think about how practical the space has to be. This helps us organize everything to the last details and tailor the room to match your household's needs. There is no standard design here. We tailor every aspect based on how you use the kitchen.
When you decide to work with Unique Renovations, owner Josh will meet with your himself. You'll also get the chance to meet the project manager and anyone else involved in the decision-making process.
Once we know exactly what you need, we can tell you how long it's going to take and what gets done each week. You will always be kept informed via the method most convenient to you. We keep our customers in the loop with any changes they're interested in knowing.
We have an expert in-house designer that tackles this part of the project. You will receive 3D renderings of your future kitchen, with prices that vary based on the complexity of the project. We're open to working with your own designer too, just as long as eveything is up to code for the space.
A Pricing Guideline For Your Kitchen Remodel In OK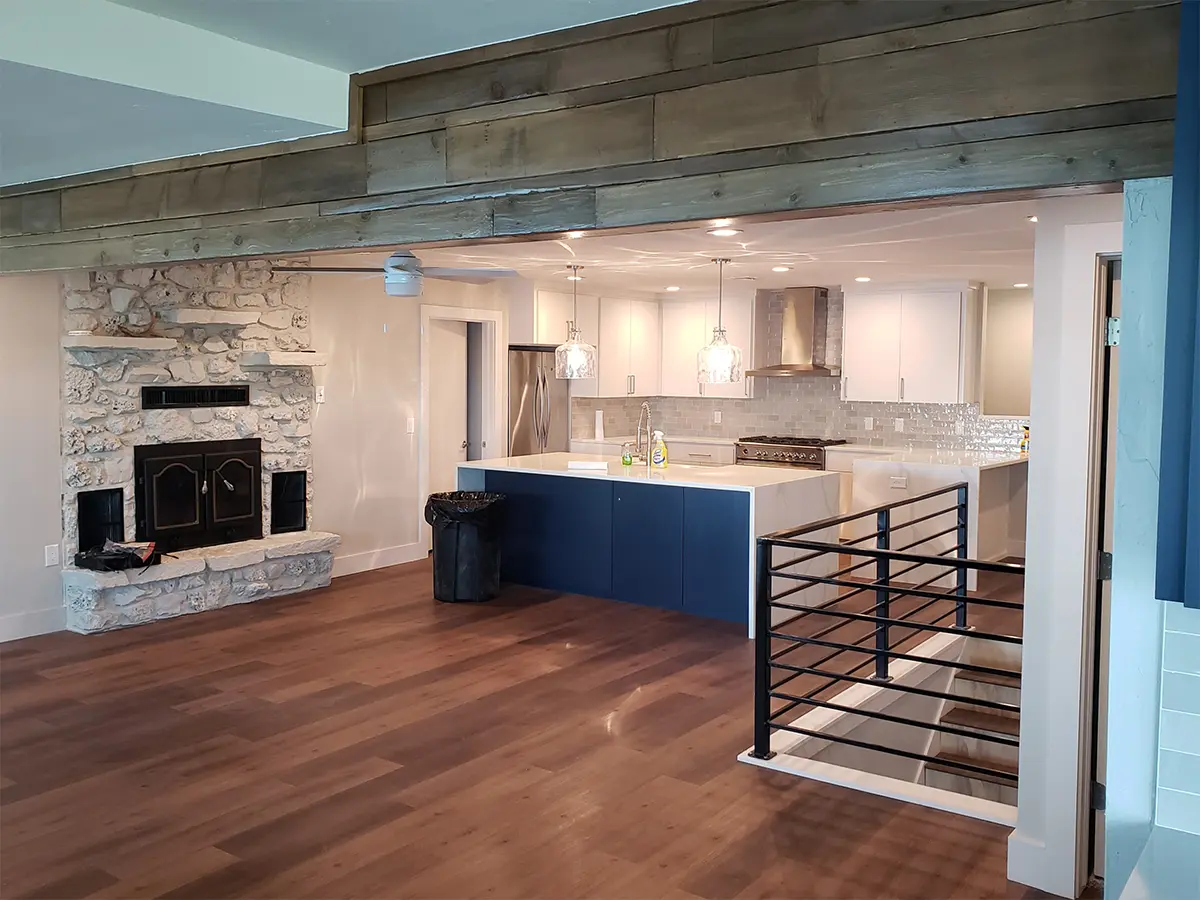 Open-Space Kitchen Remodel In Tulsa, OK
This 200 ft². kitchen remodel included:
This remodel was quoted at $52,000, where the kitchen cabinets alone were $14,500.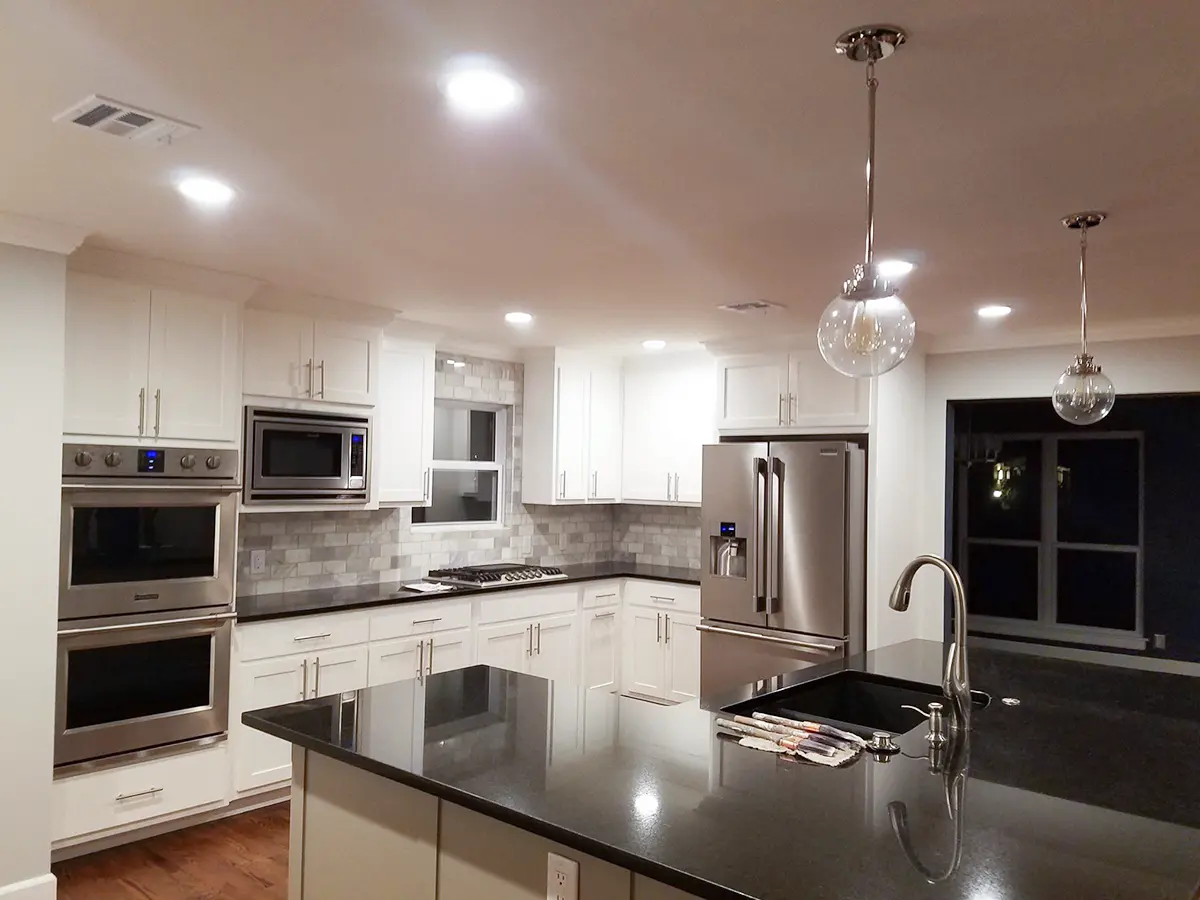 L-Shaped Kitchen Island Remodel In Owasso, OK
This 180 ft². kitchen remodel included:
This kitchen was quoted at $54,500, where the custom cabinets alone were $15,300.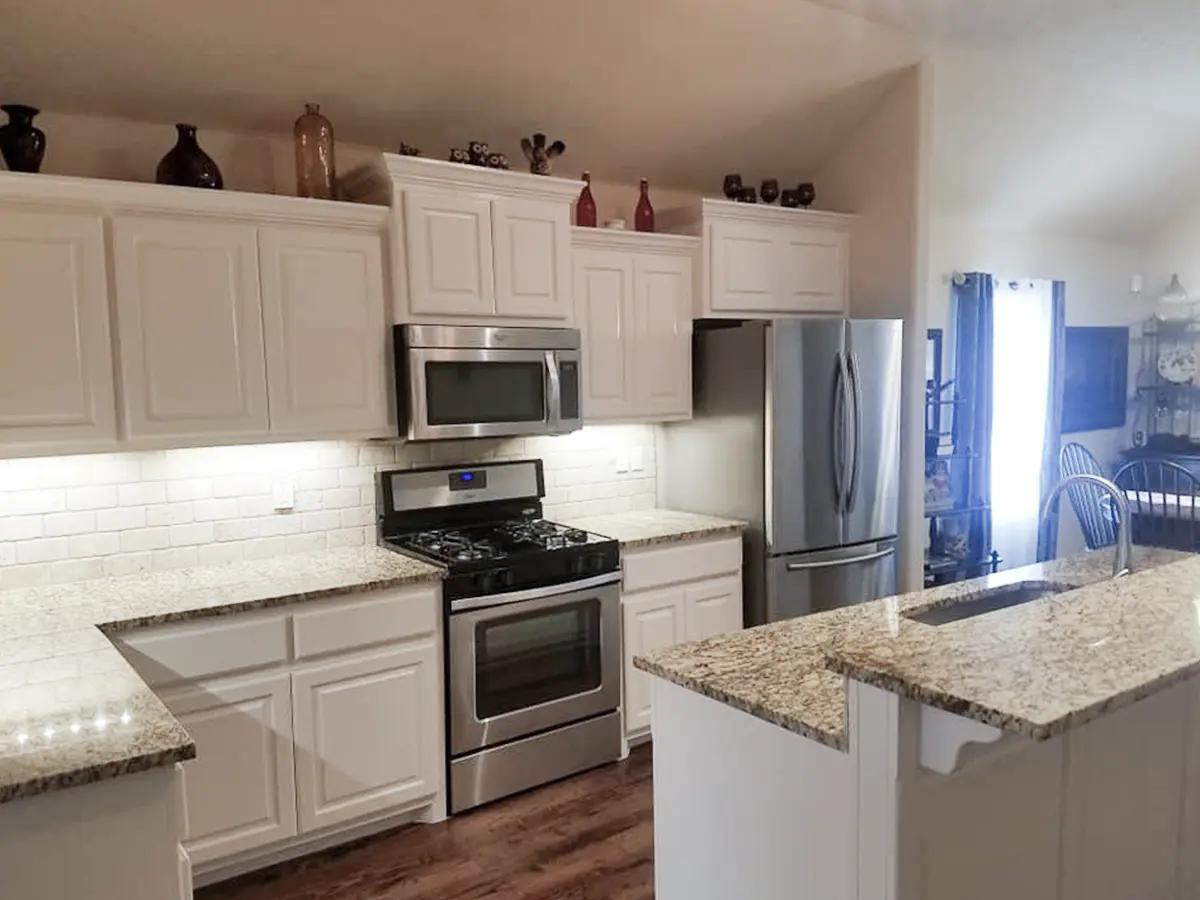 Small White Kitchen Remodel In Jenks, OK
This 150 ft². kitchen remodel included:
This kitchen was quoted at $28,500, where refacing the cabinets was $6,500.
A Stress-Free Kitchen Remodel In 3 Steps
We're fully commited to not letting you worry about any step of the remodeling process. Here's how we make it happen: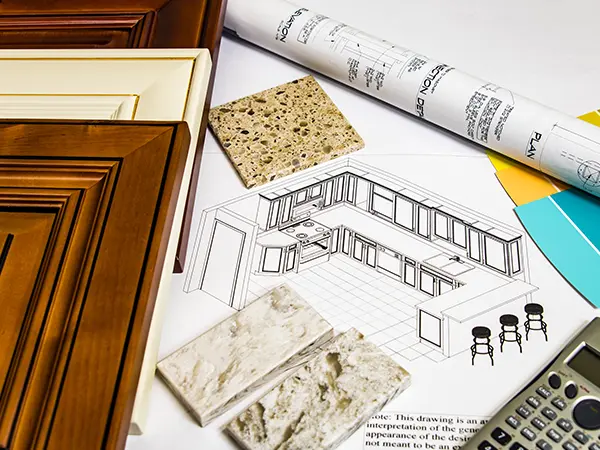 Tell us how you want your kitchen to look and feel.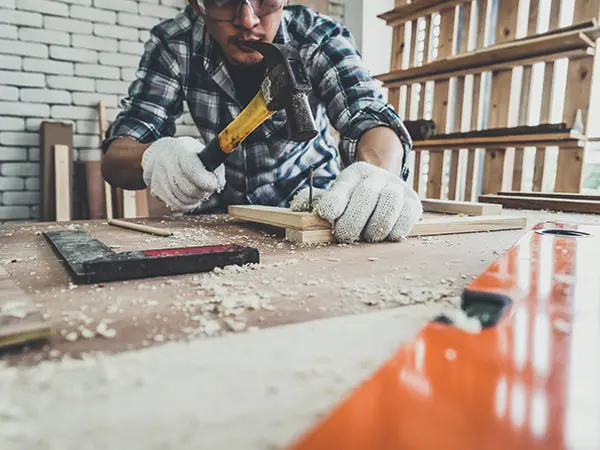 Our a team of relentless craftsmen remodel your kitchen.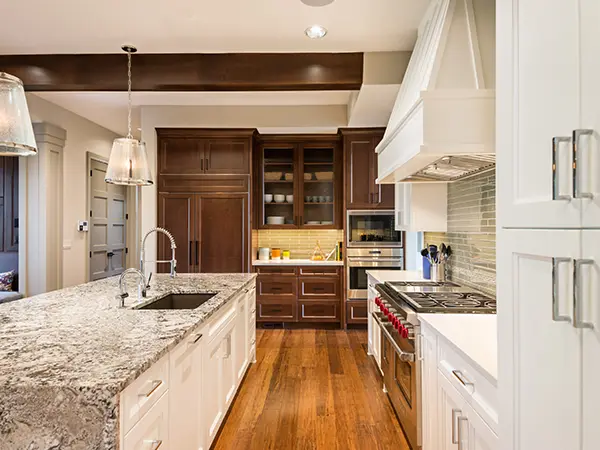 Plan your next family reunion in your new kitchen!
Hear About us From Our Customers
We LOVE our new remodeled kitchen! Josh and all of team members were excellent. Each crew that showed up cleaned up after themselves daily and took extra care of any and all furniture that was in the way.
From the custom cabinets to the paint quality and the trim carpenters- we would highly recommend this company for any or all of the above.
Josh and his crew remodeled my 2 bathrooms, renovated my kitchen, installed new flooring throughout my house and more, I couldn't be more happy with the work.
He is great to work with!
Great company! Remodeled my kitchen for me.
They custom built my island that I love. I would highly recommend them!!!
From Cooking Space To Family Corner
Here's a personal note from owner Josh to you:
Take Advantage Of An Approach Focused On Your Needs
With every new project, we try to be more than just a contractor who builds things. We enjoy every remodeling project and get involved as if your home was our own.
We offer daily updates via text, phone call, or through special software so that you always know how your kitchen remodel is progressing.
Having tackled home renovations for the past 18 years, we have all the knowledge and tools ready to take care of every aspect of your kitchen remodel.
Say Goodbye To A Dull Kitchen And Hello To Family Paradise
Leave all remodeling worries behind and trust a team who's got your back.
(scheduling takes 1-2 min)