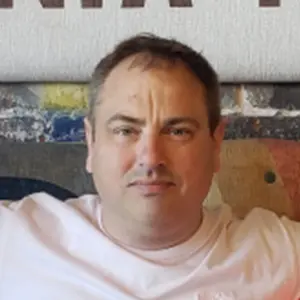 Share Your Experience to Help Others
If you've worked with us in the past, please consider leaving a review for Unique Renovations below. Your feedback can be a valuable resource for other homeowners who are considering our services.
If you haven't worked with us before, scroll down to see how others felt about working with us!
- Josh Baker, owner of Unique Renovations
Our Clients' Experience With Unique Renovations
We can't say enough about Josh and the work he and his team (Justin!) did in remodeling our master bath and closet. It was not a small job (we gutted it), and not the easiest at times, but they were very responsive and sensitive to any issues that arose. They practically became family as much as they were at the house (our dog will attest to that!)! 
Josh brought some really good ideas for the space, he encouraged us when we were on the fence and helped us to avoid any decisions that could have been disastrous from a design standpoint! In the end, we got the master bath and closet we had envisioned. 
We will be using them soon for a kitchen remodel! Thanks Josh, Justin, Nick and everyone else involved. It truly was a 5 star experience (for the most part!)
Travis and Tresa, I can't put in words how much we not only appreciate this review but how much we loved working for you both. We appreciate the ease and great communication from you both on what your vision was for the Bathroom Renovation and Master Closet. 
Thanks for being patient with us when we had to work through a couple of items, but I will say the end result was amazing and in my opinion life changing. Starting your day the right way in a bathroom you love means a lot. Looking forward to working together soon on the Kitchen…Josh.
Had a very unique situation to say the least and Josh was able to accommodate all my requests, no matter how big or small. Had to replace water damaged flooring and replace with tile and Unique Renovations did an amazing job, made my bathroom look brand new and gave me a peace of mind that my plumbing is correct now… 
Top tier quality and definitely not a contractor that cuts corners. I was always able to get a hold of him and communication was never an issue. 10/10 would recommend for any custom home improvements…
Thanks Ryan, it was a pleasure to do this project for you!
The crew from Unique Renovations were very responsive and helpful for our situation. After two other quotes for bathroom repair work that were *wildly* different, I need a third "tie-breaker" to help me decide how to proceed. 
I was very pleased at the clear explanation of what needed to be done and the quality of their work. They were careful, conscientious, and flexible when we needed them to be, and the final results are wonderful.
Thank you for the kind review Chantel! I'm glad we could help and prevent you from tearing up your bathroom even more!
Unique Renovations was recommended to me by a trusted contractor and they helped me on two occasions with drywall repair during a remodel. On both occasions they did an excellent job. 
They are professional, efficient, and cleaned up afterward which earned them a spot on my home repair contacts list. I highly recommend them and will definitely use them again.
Holly, it was a pleasure to work for you. Thank you for the kind review!
We LOVE our new remodeled kitchen! Josh and all of team members were excellent. Each crew that showed up cleaned up after themselves daily and took extra care of any and all furniture that was in the way. 
From the custom cabinets to the paint quality and the trim carpenters- we would highly recommend this company for any or all of the above.
Thank you so much Brittany, it was a pleasure for sure!
Josh and his crew did a complete home remodel. Let me just say they were great to work with. Did we have obstacles, yes. 
But The way Josh handles them is what sets them apart. They went above and beyond to make sure we were satisfied .
Thank you for the nice Review Mark! Thank you for giving us the opportunity to work in your home!
Josh and his team had amazing ideas for our renovation, they made the process so easy for us! They were honest, flexible, reliable, friendly and we would recommend them without hesitation!
Thank you so much for your kind Review!
After having had some regrettable experiences with several contractors, we were not sure how Unique Renovations would perform. Does EXCELLENT say enough. Josh and John were very attentive, personable, and professional in every way. 
We will be contacting Unique Renovations for all our household projects. You have come to the right place. I am confident that if you call upon them, you will be pleased.
Thank you Lawrence , it was truly a pleasure working for you and your wife! See you soon.
Josh was really good about working with scheduling. Their work was fairly priced. When Justin was working in my home, he kept the house very clean, didn't make a big mess, didn't track drywall, paint or anything else all over the house. 
Very professional and polite. I will call on them again for future projects.
Always look forward to working with you Angie!
We have used Josh and his team on several projects at our businesses and home. They have always done a great job.. they did our lake home and are really one of those high end..quality and on time was huge for us.
Thank you Darryl, always a pleasure to work with you!!
Dependable, trustworthy, quality describe Unique Renovations. Josh has overseen several projects for us from small repairs to major remodels in two homes. 
He is mindful of your budget, creative in designing to fit your needs and tastes, sensitive to your time, and respectful of your space.
Need a gas line installed in my basement so we could hook up my wife's gas dryer are in the gas line up to the floor so we could have a new gas cooktop everything was done very professionally they did good work and they were on time we will use them again Joshua was a great person to work with.
John, it was a pleasure to work for you and your wife!
Unique Renovations did great work fixing water damage to our kitchen ceiling. They gave us a reasonable estimate and completed the project on time and on budget. Very satisfied with our experience.
Thanks Tim, please reach out if you need anything else!
Honesty is the Best Policy
These are the people who you NEED to put up your fence. They are very reasonably priced, no-nonsense, and actually come out and GET THE JOB DONE. I am very pleased with their services. I would highly recommend them to anyone. Josh is the most honest and reputable businessman I have met in my life.
It was an honor to install your fence
I highly recommend this company! They have worked on both my home and business, and I would definitely use them again. They are clean, professional, honest, stay in contact, do whatever is needed to meet a deadline, and their work is of the highest quality!
Thank you so much Lisa! Always happy to help out one of our customers.
Josh and his crew remodeled my 2 bathrooms, renovated my kitchen, installed new flooring throughout my house and more, I couldn't be more happy with the work. He is great to work with!
Thanks Shannon, the pleasure was ours!
If your looking for a great renovation company, these are your guys! From restoration or just updating your home they are the best! Highly recommend, very courteous, pay close attention to detail and overall a great bunch of guys!
Reliable and ready to answer any questions you have. Their work is absolutely top notch and all of the employees are courteous and easy to work with. Highly recommend Josh and his crews!
Josh and his team were great guys to work with and did an absolutely wonderful job on our home! Very trustworthy!!
Thanks Yvette , for your kind review!
Great company! Remodeled my kitchen for me. They custom built my island that I love. I would highly recommend them!!!
Josh and his team are great guys and do GREAT work. We really appreciate you guys.
It was a pleasure to work with you Kewan! Please call if you need anything else!
They did a remodel on my main bathroom and it turned out great. They were on time and always kept me informed.
So glad we could help you with your bathroom! Thanks for the kind review!
They were great to work with! Great people, excellent work!
Thank you Lindsey! It was a pleasure.
Josh and his team did a outstanding job!!!